Published on
July 12, 2022
Last month, Naked Wines (WINE) reported FY22 results and the stock declined 50%. We've been following Naked since it was spun out of Majestic Wine and have covered the company from many different angles:
1. IP Interview with the Founder and Former CEO of Naked
2. IP Interview with Current CEO of WINE
3. IP Analysis on H1 22 Update
4. IP Interview on History of US Alcohol and Spirits Distribution
5. IP Interview with Former CEO of WINE International
6. IP Interview on Vivino vs Naked
In this piece, we will review WINE's FY22 results, analyse the outlook, and reflect on lessons we've learned.
We believe there are three core drivers of WINE's business:
Sales retention
Contribution profit margin
Year 1 Payback
WINE's sales retention declined from 88% in FY21 to 80% in FY22. On the surface, 80% retention is impressive for any non-SaaS business. However, this doesn't tell the full story. Naked reports H1 numbers and then FY results; it doesn't break out H2 numbers clearly.
The chart below plots the H2 22 sales retention and Year 1 payback; both hit record lows. Sales retention declined to 73% in H2 from 88% in H1 and Year 1 payback declined to 64% from 82%.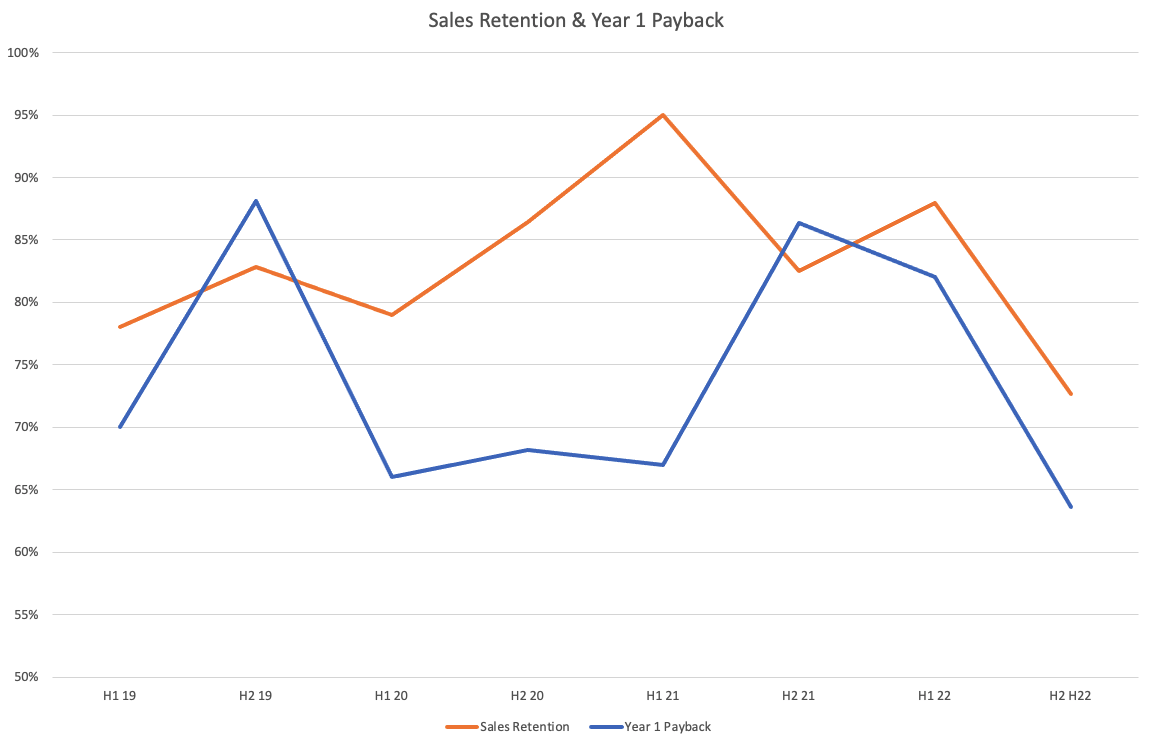 Source: Naked Wines FY22 Report, In Practise
Management believes the lower sales retention is due to higher inflation and lower consumer confidence. We previously highlighted why the payback and new customer growth is declining:
WINE acquired 61,000 customers in H1 22 and 17,000 in H2 22. The second potential reason for the slower growth in H2 could be the iOS changes that distorted Facebook's ROAS. Also, WINE's major marketing channel is vouchering: inserting discount vouchers inside e-commerce boxes. Not only has competition for inserts inside popular ecommerce retail boxes increased, but the overall volume of boxes shipped online has decreased as the world reopens. - IP Analysis, May 2022
The repeat contribution profit margin also declined 260bps from 29.9% in FY21 to 27.3% in FY22. In H2 22, the repeat contribution margin hit a 4-year low of 26.3%. This is mainly due to higher fulfilment costs and raw material inflation.
All three of the core drivers of WINE's unit economics declined in H2 22.
These metrics are important as together they determine the marketing spend required to achieve a certain level of growth. This 'replenishment spend' flows through the income statement and is the marketing expenditure to replenish the contribution profit from churned customers.
Forum
The forum a trusted place for investors to debate and share ideas on quality companies.